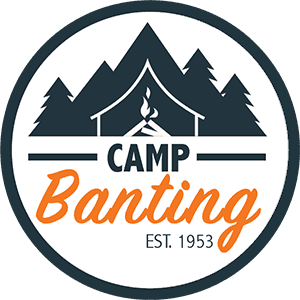 The Hitchhiker's Guide to Camp Banting
Don't forget your towel.
Our People: Volunteers, Staff, and Leadership
The heart, soul, and pancreas of our camp.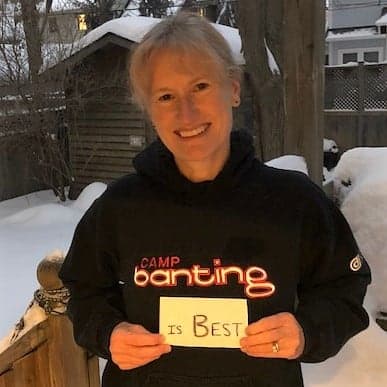 Sarah Lawrence, MD FRCSC
Medical Director & Chair
Dr. Sarah has nearly two decades of experience working with the children and medical staff of Camp Banting.  She's been a positive impact in the lives of hundreds of families, her care and compassion an unmistakable color of her character.
Dr. Sarah is Chief of the Endocrinology and Metabolism Division at CHEO, where she also serves as an Associate Professor of Pediatrics. She returns again to Camp Banting this summer to direct the medical care at camp.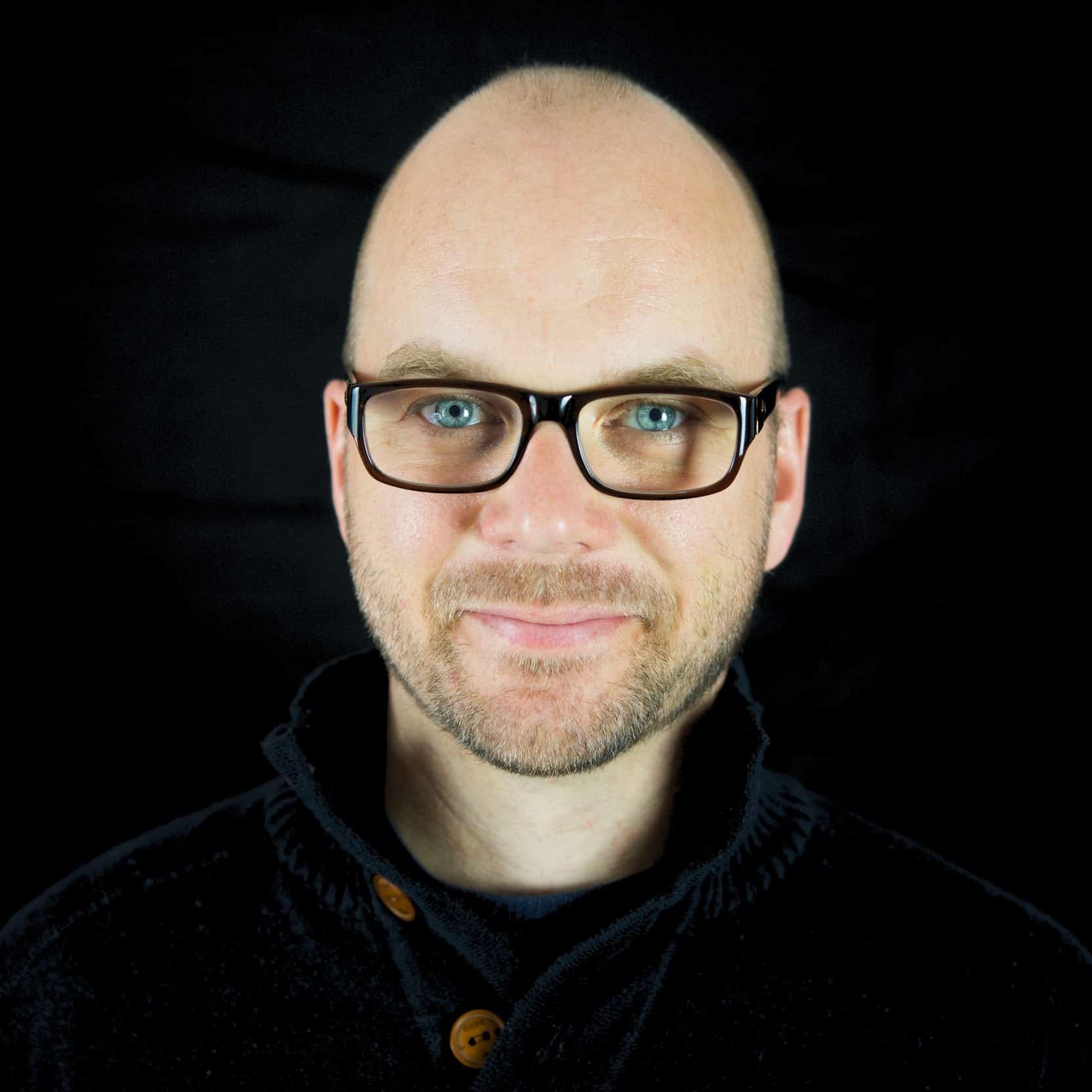 Andrew Leonard
Executive Director
Andrew first met Camp Banting in 1992, as a teenage lifeguard at Banting's host camp, Camp Opemikon.  He's since continued a career in youth development that spanned two decades with organizations like the YMCA, Scouts Canada, and Diabetes Canada.
Andrew returned to Camp Banting in 2008, serving as its Assistant Director until 2011.  He currently works as a human development coach and studies graduate psychology through Harvard University.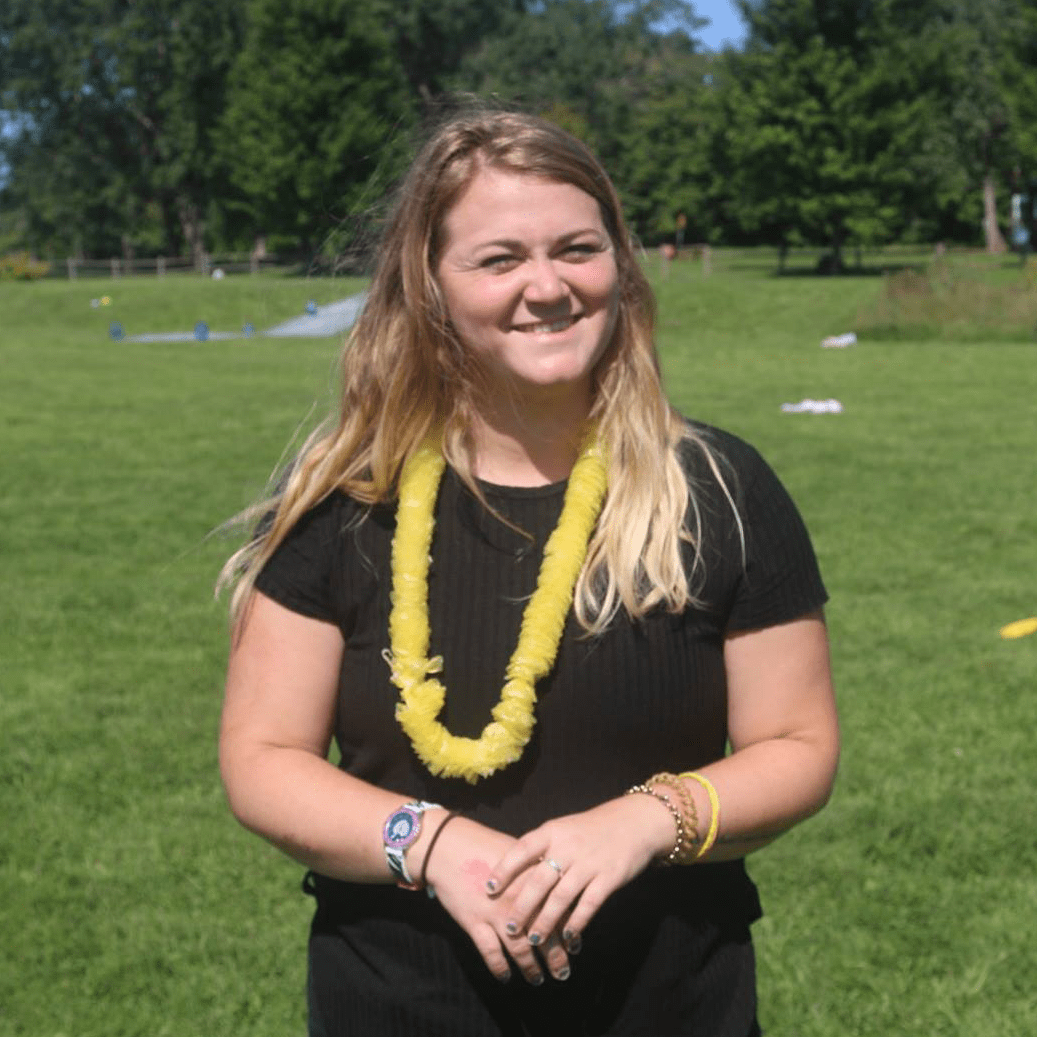 Sarah Hamilton
Camp Director
Sarah grew up at Camp Banting, from camper to counsellor to program staff.  Committing herself fully to the mission of helping families living with T1D, she continued her career with Diabetes Canada's D-Camps team before moving on to work assisting families in the CHEO clinic.  Sarah has worked at T1D camps across the country and is ecstatic to return to Banting's leadership team.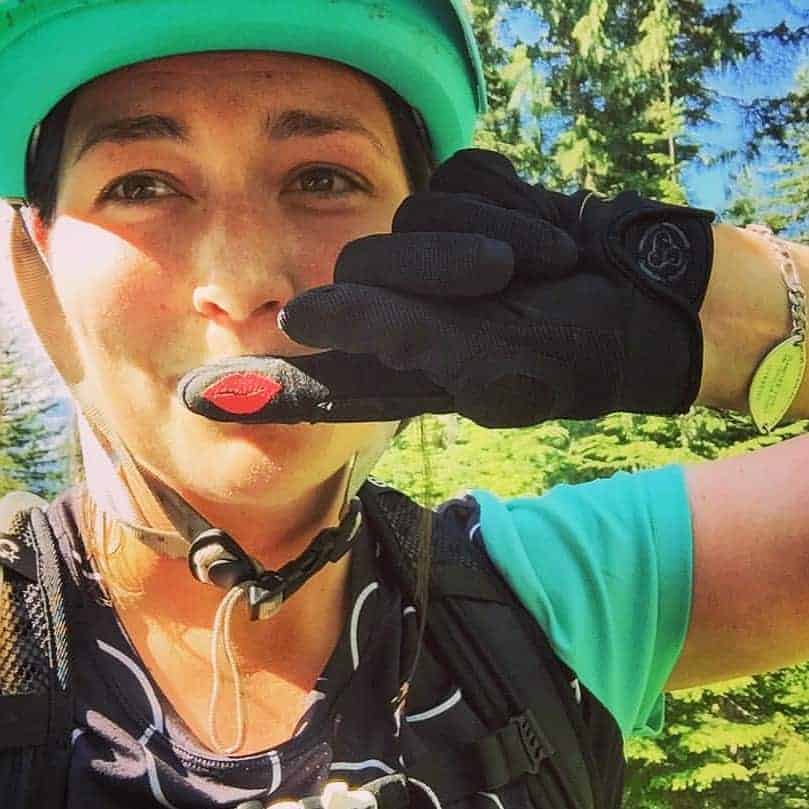 Danielle McVicar
Chief Operations Officer
There are only a handful of leaders like Danielle in the T1D community.  Starting her path long ago as a camper at Camp Banting, Danielle went on to work as staff at the camp for nine seasons.  She then furthered her experience with Diabetes Canada's D-Camps team, running camps for kids and families across Western Canada.
Most recently, Danielle represented Canada at the 2017 International Diabetes Federation Congress in Abu Dhabi.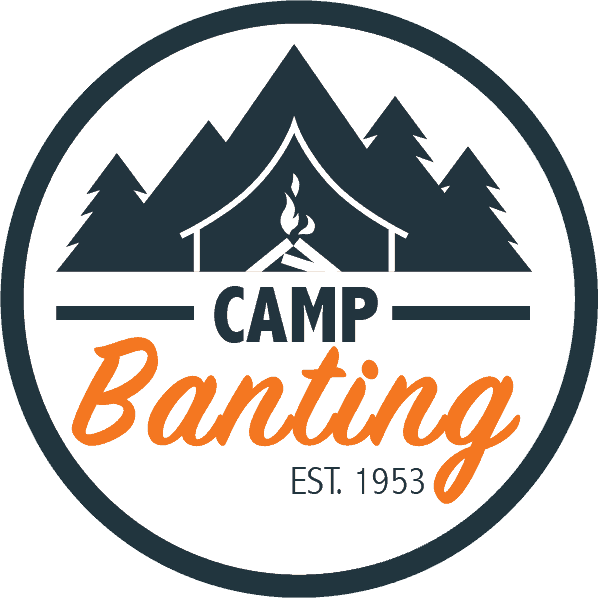 Camp Committee
Our camp is an undertaking of community, fueled by the passion of its people.  Our history is unique in that we've never owned our own facility.  We show up with our people and our gear (and trunks full of costumes!) and we create belonging for our campers.
Camp Banting's Camp Committee is an inter-disciplinary, inter-organizational group of stakeholders that steward this community-based endeavour.  It's a group that represents our medical team, program staff, facility partners, and organizational partners.  We work together in an atmosphere of cooperative trust, with our North Star always being the experience of our campers.
This is far from just an admistrative body.  It's in the dedication, humor, and tireless enthusiasm of this group where the magic of camp finds its spark every season.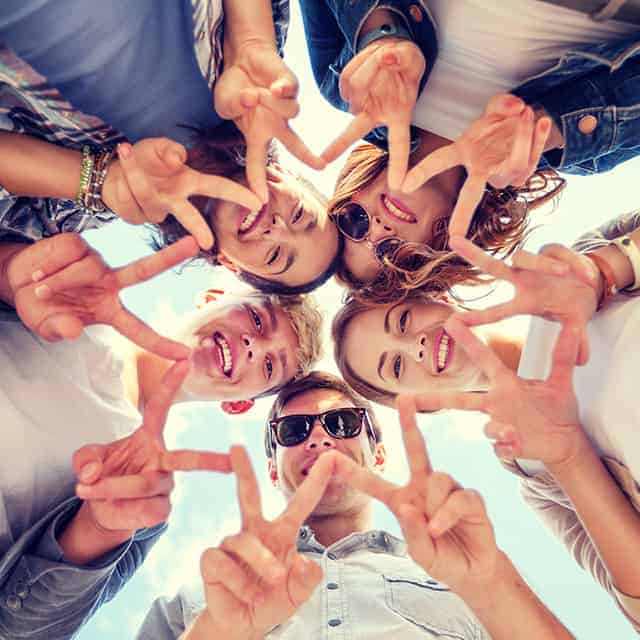 Medical Staff and Camp Counsellors
Every year, rainbow unicorns descend from the sky and glittering narwhals emerge from the seas.  These fantastical beasts deliver us our medical and program staff.  Now, we've never actually seen these magical creatures drop off their cargo, but our staff and volunteers are extraordinary.  This is our best guess as to where they come from.
Our medical team is made up of doctors, nurses, dietitians, residents, endocrine fellows, interns, and students.  This team is coordinated under the supervision of Dr. Sarah, and ensures that diabetes care is tightly monitored and carefully personalized for every camper at camp.
Almost all of our camp counsellors live with T1D, and many grew up coming to Camp Banting.  This puts a high level of peer support and leadership in every one of our cabins.  Our campers don't just make friendships and learn from other kids, they get the leadership of gorgeous souls who have been through the same challenges.
Our Facility: The YMCA-YWCA Bonnenfant Outdoor Education and Leadership Centre
A partnership that spans sixty-five years.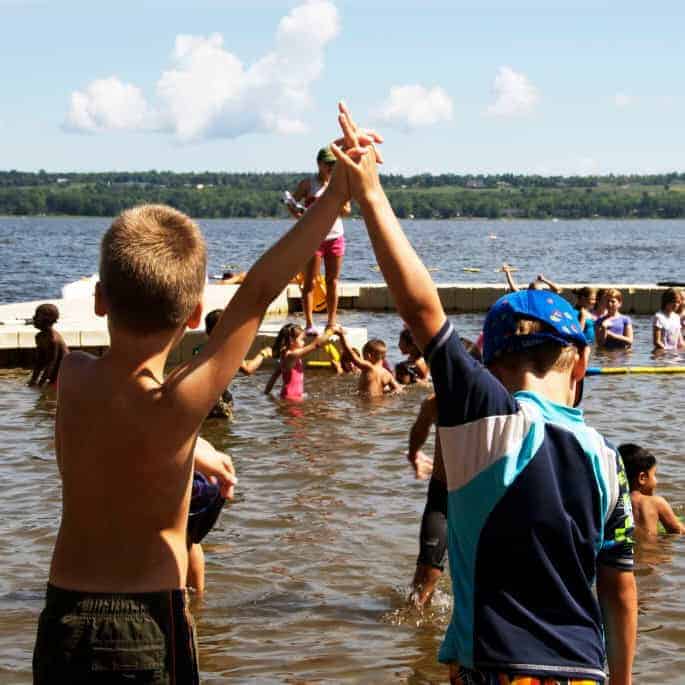 A Full Service Facility
The Bonnenfant Y Outdoor Leadership and Education Centre is located ten minutes north of Kanata on 30 acres of field, forest and rugged Ottawa River shoreline.
Open year-round, the centre specializes in education and leadership programs for school groups, community organizations and professionals, and offers a variety of experiential, curriculum-driven outdoor education programs that can be tailored to the individual needs of any group.
The program staff at Bonnenfant work in partnership with the Camp Banting team to host our camp's activities.  We rely on the expertise of the centre's staff in areas like lifeguarding, boating instruction, ropes course and climbing wall instruction; to name a few.
The YMCA-YWCA of the National Capital Region has made significant investments to all areas of the facility over the past several years, making it an ideal place to host Camp Banting.
Professional Foodservice
The renovated dining hall, known as The Chalet, can accommodate up to 90 people in its main hall.  Foodservice staff at the Bonnenfant Centre work in tandem with our dietetic team. Together, they ensure that nutritious, healthy, and carb-counted meal choices are served in accordance with each camper's meal plan.
Each camper tests blood sugar levels before the start of each meal.  Taken with any trends identified during the course of the day, medical staff work with the campers to set appropriate carb targets for that meal.  Our medical staff either deliver or supervise insulin injections or boluses for the meal.
Regular snacks are also a part of camp life, with our cabin groups taking a break in the mid-morning and mid-afternoon to test blood sugars and keep energy up.  We all meet in the dining hall at night after our evening program to test and snack together.  This nighttime snack often breaks out into spontaneous dance parties before our cool-down campfire right before bed!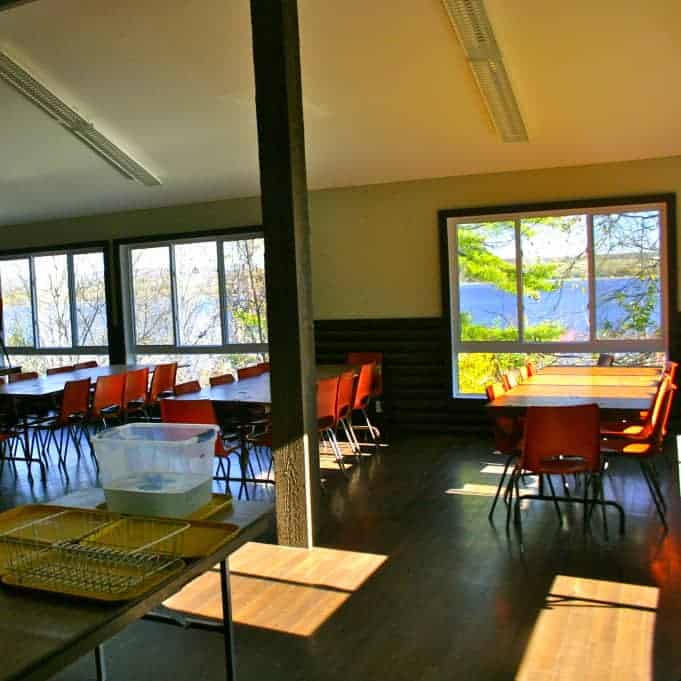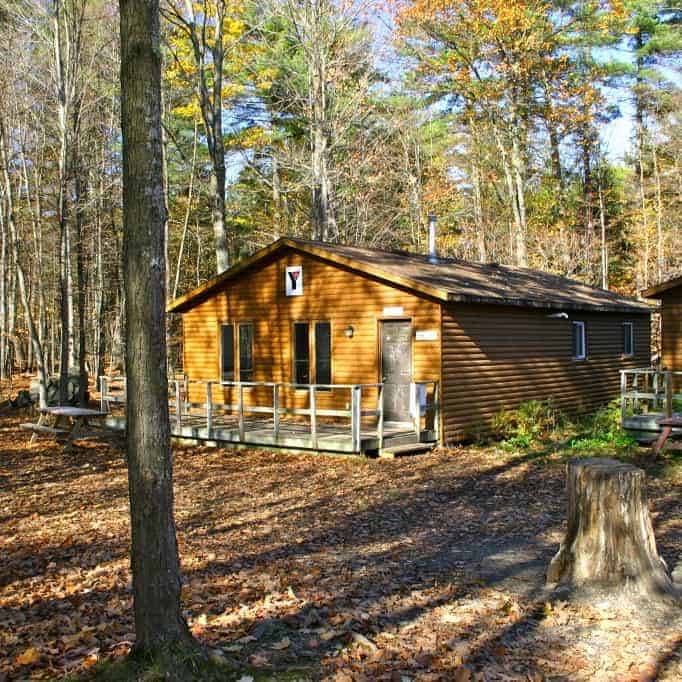 Scenic Accommodations
Nestled in the forest, the Bonnenfant Centre has several well-appointed cabins for our campers.
Pictured here is a cabin in our cabin loop, where most of our camper population stays.  These cabins sleep two cabin groups of eight campers each.  Campers stay in rooms of four.
Campers are supervised at all times while in the cabin, by at least two counsellors at a time.  Our counsellors stay in the large front room of the cabin and are available at all times to the campers.
At night, a small team of medical staff circulate through the cabins to do blood sugar tests every few hours.  This team of night monitors treat any camper blood sugars that are out of range.  Some campers sleep right through these tests, others laugh over breakfast with their cabin mates about how many times they got tested!
Our Program: What We Do
Check out what powers our fireworks.

Aquatics & Swimming
We've got a long stretch of Ottawa River shoreline.  This includes a large swimming area where campers can swim and receive aquatics instruction.

Low Ropes
Low ropes courses consist of separate elements, a bit like an obstacle course, that provide unique teambuilding opportunities for our campers.

High Ropes
Three separate high ropes areas provide campers with a jungle gym in the sky for campers to explore and build confidence.

Rock Climbing
Towering above the camp, the climbing wall provides challenge for campers of all ages and skill levels.

Arts & Crafts
A classic favorite of camps, Arts & Crafts provide the opportunity for campers to get creative in a social, supportive environment.

Drama
Whose line is it anyway?  Campers learn how to do improv through drama games and working through short scenes.

Outdoor Living Skills
How do you move with a map and compass? How do you build a fire?  We learn by doing in Outdoor Living Skills!

Canoeing & Kayaking
With a fleet of canoes and kayaks the endless kilometers of the Ottawa River provide a playground for campers to learn paddlesports.

Nature Hikes
With forest, hills, and shoreline to choose from, spending time to learn and appreciate the natural world is a basic aim of camp.

Team Sports
Ultimate frisbee, touch football, soccer, and capture the flag are all games we play in cooperative, teambased ways to promote health.
A Day in the Life of Camp
Come see camp through the eyes of our campers.
7:00 am
Rise and Shine
7:00 am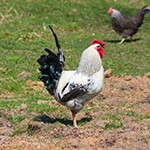 Cindy's ears wake her up.  She rubs her eyes as her counsellors, Paulina and Lindsay, come through the rooms of her cabin singing wake up songs.  Cindy and her cabinmates get dressed and meet in the common room of the cabin to check their blood sugars together.  She remembers hazily one of the nurses checking her in the middle of the night and giving her a juice box, so she's all good this morning.  The counsellors record the blood sugar readings in a log for the whole group, and a Blood Runner (what a name!) picks up the log to bring to the doctors.
8:00 am
Breakfast
8:00 am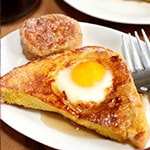 Jack and his cabin race to the Chalet for breakfast.  They deke around a string of other cabin groups on the way down, and it's not long until the whole camp is in front of the dining hall.  There's a counsellor in a wig and sunglasses singing about a moose, and everyone joins in to follow along.
One by one the cabin groups go under the dining hall to see the medical team.  When it's Jack's turn, he gives a high-five to Dr. Sarah as she reviews his blood sugars from the night.  He heads into the next room and sits with his cabin.  He's got an insulin pen that his nurse, Gen, has been working with him on.  He still needs a bit of help, so Gen helps him prepare his site and gives him his injection.
After a few minutes, Jack and his cabinmates fly back out to sing O Canada and see which staff members win the Sunshine and Boo awards for the day.  Then it's into breakfast for French toast and eggs!
9:15 am
Interest Groups I
9:15 am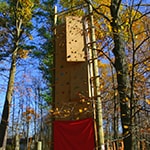 On the very first night of camp, Jack got to choose a couple of "Interest Groups", activities and skills he'd work on while at camp.  The counsellors who were running each activity dressed up in costumes and did funny little skits about what each activity was.  One of the interest groups that really excited Jack was the "Rocks and Ropes" group.  This morning, he's on his second day at the climbing wall.  Yesterday, he learned how to be safe and what gear to wear but couldn't quite make it all the way up the climbing wall.
This morning, Jack is trying the same route up the climbing wall again.  He's almost at the top .  His instructor calls: "Hey Jack! Get your left foot up on that orange hold, then step up to grab the yellow one with your right hand!".  The other campers, fifty feet down, cheer him on.  Jack makes one mighty push, grabs the yellow hold, then the green one after it and makes it to the top.  He raises a fist in the air and yells with triumph as he takes in the view.
10:15 am
Snack
10:15 am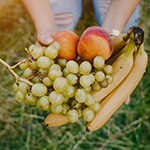 Cindy just finished her Drama interest group where she and seven other campers put together an improvised play where Snow White was a giant King Kong gorilla and the dwarves were aliens from a glitter planet who wore spandex tuxedos.  Cindy and her group are busy re-living their favorite moments of the play as they walk down to the Chalet to meet their cabin groups for snack.
Paulina, her counsellor checks and records her blood sugars.  Cindy's sitting at a 3.2.  She has an apple and a juice box, and laughs with her cabin as they play a clapping game.  Fifteen minutes later, Cindy checks again and is at 5.1 and Paulina logs the number.  Cindy's cabin group packs up and zips off in different directions to meet their instructors for the second interest period of the morning.
11:00 am
Interest Groups II
11:00 am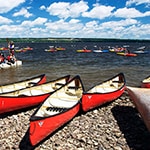 Cindy meets up with her kayak instructors, Avi and Josie, along with nine other campers from other cabins.  Josie does a quick check for attendance and testing supplies, makes sure the campers have swimsuits, towels, and sunscreen, and they race down to the waterfront.  Cindy's spent the last two days in a yellow kayak that's become her favorite and she wants to be sure she gets it again. Cindy and her group help each other to get the kayaks off the racks lining the beach and into the water.
The whole group paddles out into the sunny water.  Avi teaches them a couple of new strokes.  Cindy learns how to reach and almost slap the water with her paddle, called a "brace", to use in case she loses balance and is about to flip over.  Although flipping is kind of fun, something they learned to do and get out of the boat on their first day — it's also something they always find a way to do at the end of the class to play a little longer in the water!
With the new strokes learned, Cindy and her friends divide into two teams to play a game of Kayak Polo.  After cruising around hitting the ball with their paddles, the game ends up tied 2-2 and the group all "accidentally" flip and splash around in their lifejackets before heading in.
12:30 pm
Lunch
12:30 pm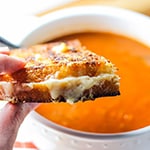 Jack just finished up with his group over on the field at Team Sports, where the group played an intense game of ultimate out in the sun.  He meets his counsellor, Kees, at the dining hall and a few minutes later starts to feel a little funny.  Jack's been paying attention to how the other boys in his group talk about their lows, since he was just diagnosed about a year ago.  He asks Kees if he can check, and he's at 3.5.  Kees logs the number and works with Jack, over a juice box, to understand that all the running in the sun has probably tanked his blood sugar a bit — AND gives Jack some serious praise for recognizing his low, something that didn't happen earlier in the week.
A few minutes later, Jack's cabin group goes in to meet the medical team before lunch.  Jack gives Dr. Sarah his now customary high-five, telling her about his morning. Dr. Sarah adjusts his insulin to compensate for the activity and he's off to see Nurse Gen for his injection.  He's still a bit hesitant with his pen, but dials in the dose himself while Gen supervises.  Gen gives him his injection.  Moments later, Jack and his friends are back outside catching a mind-bending repeat-after-me-song.  Moments after that, he's into lunch, stuffing his face with soup and grilled cheese after reviewing his meal plan with Kees.
1:30 pm
Rest Period
1:30 pm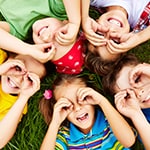 Lunch usually ends with enthusiastic chaos.  One of the counsellors hosts "Banting Radio", aka B-RAD, on the sound system.  Songs are pumping songs through the sound system and the whole dining hall is singing along to that latest pop song that refuses to not get caught in your head.  Jack helps get dishes cleared from the table and another camper takes extra food back to the kitchen.  Jack's new best friend, Tom, grabs a cloth and wipes down the table.
Jon and Carly the program directors, call the camp to order by yelling over the din: "AYYY OHHH!".  The whole camp calls back "OHHH AYYY!" and goes silent.  A few announcements are made, a group cheer happens, and the cabins are dismissed.
Back at the cabin, it's rest period.  The cabin is cool and breezy with the wind in the trees.  Jack's in the common room with a few other campers, and he's writing a postcard home.  Tom's in his room drawing.  Kees is playing Bananagrams with a few others.  Two more are fully konked out and napping.
2:30 pm
Afternoon Cabin Program
2:00 pm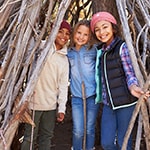 Paulina and Lindsay pulled out a craft bin for the girls in Cindy's cabin, and they just finished a rest period threaded with creativity.  At the start of the week, the cabin group brainstormed ideas that they'd like to do together as a cabin.  One of the highest-ranked items was fort and shelter building in the forest behind the cabin.  Lindsay spent some time yesterday afternoon scouting out the area.
Cindy and her group lace up their shoes.  Paulina and Lindsay check their backpack with testing supplies and the first aid kit.  The group pours out the back door of the cabin and into the forest.
Cindy and her friends Sally and Laura romp the forest looking for perfect lengths of fallen wood, and meet back with the rest of the group to begin construction.  Working together, they manage to get a pretty solid structure built that they can all fit under.  It still needs more work, but they vow to come back to it later in the week.
3:00 pm
Snack
3:00 pm

Paulina and Lindsay had grabbed a milk crate of juice, fruit, and cookies after lunch for "traveling snack".  Cindy's group sit in and around their half-built forest fort while the birds chirp around them.  The group chats and plans future construction while they check sugars and snack.  Cindy's at a 5.5 and Lindsay logs the number.  As they wrap up their snacks, conversation starts to shift to what they'll do at the waterfront.  Cindy and Laura make plans early to grab a canoe to head out on the river.
3:15 pm
Open Waterfront
3:15 pm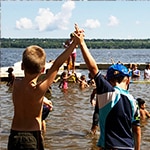 Jack loves the waterfront, so does his cabin.  It's why his cabin group has changed into their swimsuits and grabbed towels in record time.  His counsellors can hardly keep up as they fly down the path to the beach.
The whole camp is at the waterfront.  The late afternoon sun stretches over the river. Jack's cabin pairs off into buddies, something the lifeguards require to enter the swimming area.  A few short minutes later, they're in the water with flutterboards and water noodles in hand, picking up a game invented yesterday with another cabin group.
A little ways away, they can see Cindy and Sally pushing off the beach with their canoe while kayaks take off around them.  Little groups of campers sit in clusters on the beach, hanging out with each other as the counsellors float around.  The haze of summer hangs in the air.
5:30 pm
Dinner
5:30 pm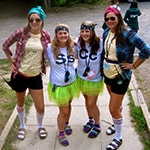 Tonight's dinner has a theme: Twin Dinner.  Brandon and Kees don nearly identical, and equally terrible dad sweaters and sunglasses.  Jack and Tom have paired up to wear all yellow, right down to headbands.  The rest of the cabin has paired off and find clothes or costumes to match.  All set and twinned up, Jack's cabin sits on the front deck to test blood sugars.  Once those are logged, everyone heads down to join in with the songs already happening at the dining hall's front steps.
When it's time to meet the medical team, Jack can't get the words out fast enough to regale Dr. Sarah about the epic water battle that just took place at open waterfront. He forgets, almost, to give her his standard high-five but remembers with a jump just before going off to meet Nurse Gen for his insulin.  Riding a wave of energy from the day he asks Gen tentatively: "Do you think I could give my insulin by myself tonight?"
Nurse Gen agrees, watching Jack as he dials in the correct dose into his pen, chooses a site, and gives himself his injection.  It's his first time doing it by himself.  The boys beside him smile.  So does Gen.
Jack's feeling… elated, and grounded.  Quietly confident.  Dinner is called and he heads into the dining hall to sit down, eat, and call out all the cheers that will inevitably follow.  He laughs as he looks around to see all the twinned up counsellors and campers in outfits that range from the absurd to the hilarious.
6:30 pm
Evening Program
6:30 pm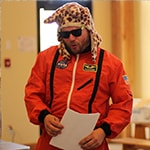 Dinner comes to a close.  Cindy knows this because the volume of the dining hall cranks up one notch, and then three, with the songs and cheers being sung.  Campers all around around are helping to clear off tables, bringing food and dishes back to the kitchen. Jon and Carly, the program directors, yell out "AYYYY OHHHH!"; the whole camp cheers back: "OHHH AYYYY!" — and goes silent.  Well, mostly silent.
Jon and Carly are dressed as Zookeepers.  Turns out it wasn't just for the twin dinner.  They explain that all the animals from the Camp Banting Zoo have escaped their cages and pens, and must be caught.  Jon and Carly tell the campers that it'll be their job, in their cabin groups, to find all the animals and bring them back to the Zoo.  The campers have been deputized as Zookeepers and must meet on the field in twenty minutes!
After Cindy and her cabin arrive to the field, the rules of the game are explained and the cabin groups are off to find lions and tigers and bears.  The "animals" are counsellors and med staff.  They find them hiding up trees, behind buildings, and under decks.  Every time they find one, like that scared giraffe, they need to sing a song or play a game with it to coax it home to the "Zoo" under the circus tent at the field.  When the game wrapped up, Cindy and her cabin were pretty stoked with the job they'd done — 11 animals caught for a total of 937 points!
8:00 pm
Snack and Hush Flush
8:15 pm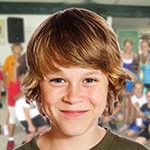 Cindy and Jack's cabin groups, along with the rest of the camp pile back into the dining hall for evening snack.  It's been a full day, and the dining hall is buzzing.  Banting Radio fires up again.  The cabin groups check and log their blood sugars.  Music fills the laughing spaces between the little pods of campers talking to each other at the tables.
Cindy smells nachos in the air.  After a quick trip downstairs with her cabin to see Dr. Sarah and the nurses, her group is back upstairs and dividing up a tray of hot nachos.
Jack's cabin is the last group to go down.  Dr. Sarah gets an enthusiastic high-five when he sees her.  Jack tells her all about the bear that wouldn't go back to the zoo unless you told it a non-stop Hello Kitty story.  All done, the group heads up to devour some nachos.
With the last cabin finished with insulin, the medical team comes upstairs just as the music cuts out. Carly and Jon yell out "WHO WANTS THE HUSH FLUSH?!!?".  The campers fully freak out with enthusiasm.  The Hush Flush is one of the camp's longest running traditions, putting counsellors up to harmless pranks, delivering secret messages in front of the camp, and celebrating successes. After Carly and Jon go through a few of these, Carly pulls out one last folded up paper from the Hush Flush jar.
"DID YOU KNOW?" She yells, beginning the ritual
"NO!" The camp roars back
"THAT JACK FROM CAYUGA…" She continues
"STAND UP, JACK FROM CAYUGA!" The campers demand
"DID YOU KNOW THAT JACK FROM CAYUGA GAVE HIMSELF HIS FIRST INJECTION TODAY?"
The whole camp loses its mind. They clap and cheer into a standing ovation.  Jack watches as they all stand up, takes it in as they sing to him: "WE. ARE. Proud of YOU, WHAT? WE. ARE. Proud of YOU, HEY!" over and over.
Jack's face flushes.  He smiles, bashful.  He looks around to the faces cheering for him, smiling for him.  Cindy beams at him… two days before, she'd been there.  She'd changed her pump site all by herself and Jack screamed himself hoarse cheering for her.
They catch each other's eye.  It's at that moment the warmth of connection fills their hearts.
It's at that moment they know they're not alone.
It's at that moment a full blown dance party breaks out.
8:45 pm
Cool Down Campfire
8:45 pm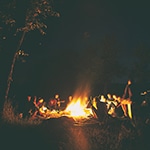 On a scale of 10, the energy level in the dining hall got cranked to 12 with a torque wrench.  The music stops, and the campers are invited up to the firepit.  It's time for the camp's last nightly event: the Cool Down Campfire.
Cabin by cabin they arrive, sitting on benches around the already burning campfire.  Some of the counsellors have guitars out, taking turns playing acoustic songs.  Chords from guitar strings dance with the flames as sparks rise to the forest's canopy.  Looking around, some eyes start to glaze over.  It's getting to be about that time.
Jack is lost in thought and music, a slow river of reflection in his mind as he considers this near perfect day.  He's brought to awareness by the invitation for the younger cabin groups to leave the fire.  They file out to the tune of a soft song.  After all, there are teeth to be brushed and pyjamas to get into.
Cindy, one of the older campers, stays on the benches for another song or three.  Firelight plays across her face as her cabin group alternates between whispering to each other and being captivated by the fire and the music.
9:30 pm
Quiettime and Lights Out
9:30 pm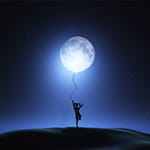 Day is done, gone the sun.  Cindy sits beside Sally and the rest of the girls in a circle, her counsellors Paulina and Lindsay with them.  Most of the lights are out and a battery-powered lantern sits in the middle of the circle, continuing the feeling of firelight.
Cindy's group sits like this every night, a last check in together.  Paulina and Lindsay call it Rose and Thorn.  One by one, the girls will go around the circle picking a "rose" from their day, something good that happened; and a "thorn", something that wasn't so great.
Cindy shares her thorn first.  She shares that she thought they could have worked together better as a group, or maybe planned better, to build their forest fort.  She says she's not exactly sure what could have been done differently.  With some questions from Paulina, Cindy gets to realizing that she was disappointed in herself for not getting more done.  Her friend Sally speaks up to disagree, and the girls promise to check in with Cindy when they go back to the fort tomorrow.
Cindy shares her rose next.
"You know," she says "I love this place.  My rose is just being here and being with you guys.  I mean, I've got a home home; but it's been four years of coming back here every summer and this feels like home, too.  That's my rose."
Twenty minutes later, everyone is asleep.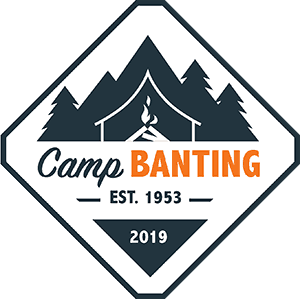 Where Can We Take You From Here?
Choose your own adventure.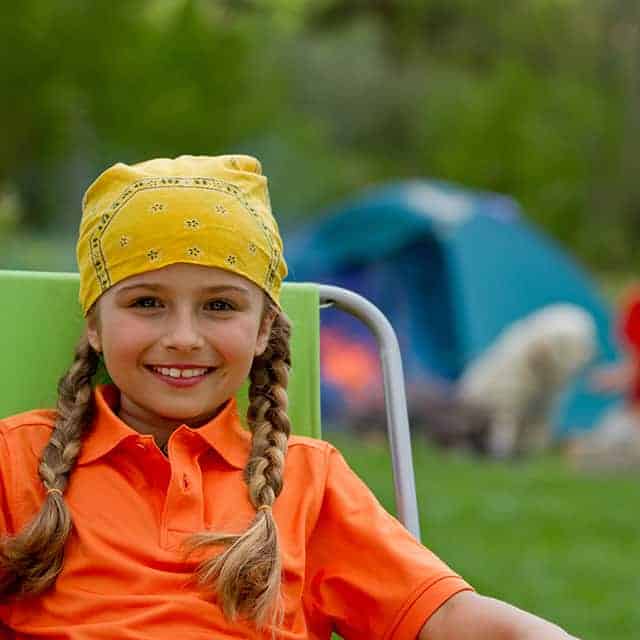 Is your family rip raring and ready to go?
Hit the button above and you'll be taken to our registration page!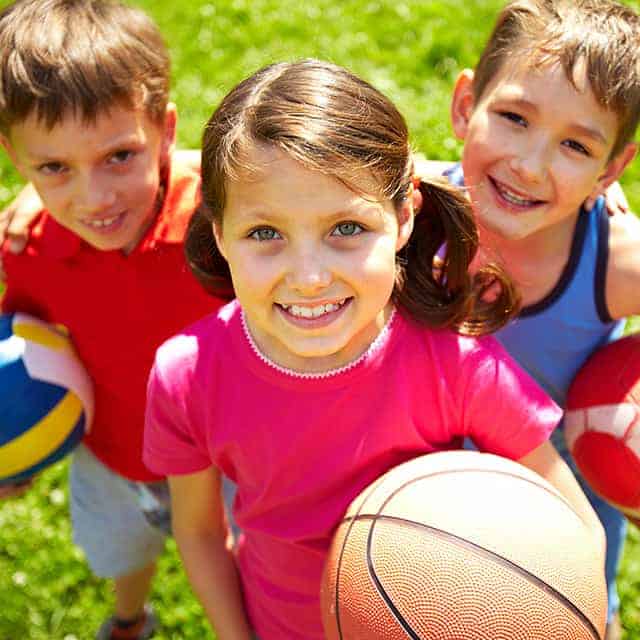 Looking to know more about what happens at camp?
Our program information page will (hopefully) answer all of your questions!!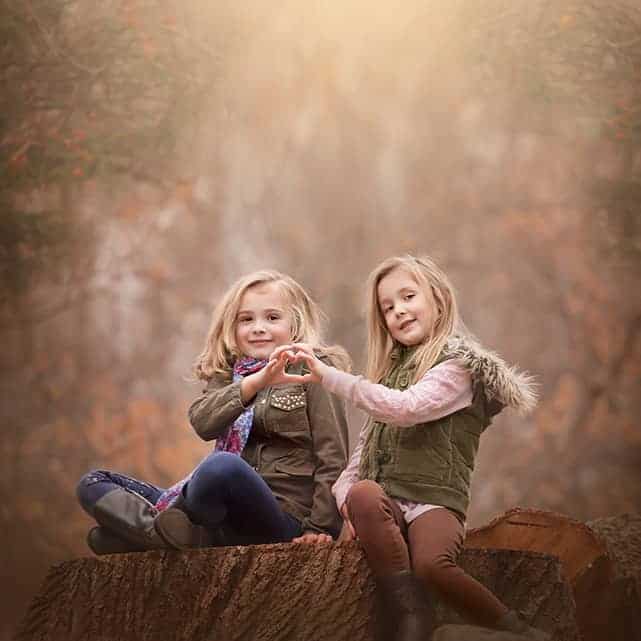 Would you like to help families in need?
Learn more about our #HelpCamp fund and how it gets kids to camp.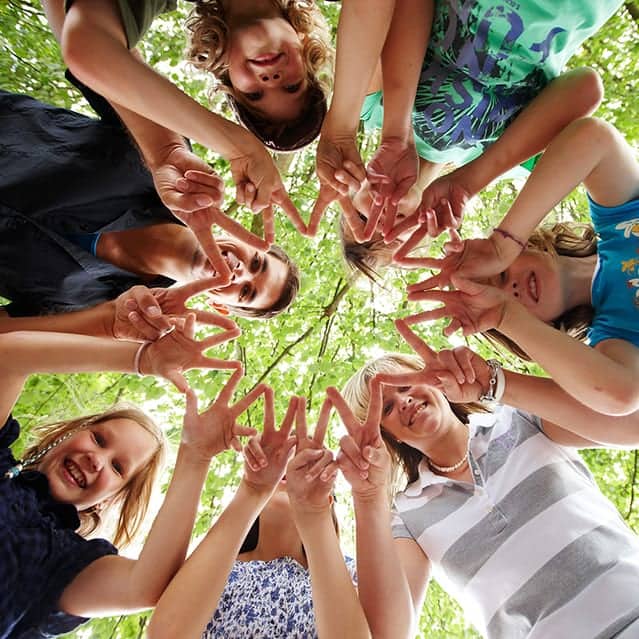 Looking to make some real life contact?
Bob the Banting Bot will take your message and deliver it to us!